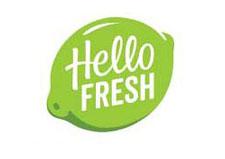 HelloFresh? It should be named Hello Fresh, Tasty, and Cheap! This meal delivery plan has made its way to Australia. How does it compare to other meal delivery services? This review is going to dig into that very question. By the end of this review you will be certain whether HelloFresh is the meal service for you (and probably hungry).
HelloFresh delivers fresh ingredients and easy-to-follow recipes to your door each week so you can cook quick, balanced and wholesome meals the whole household will love. Whether you're cooking for two or feeding a hungry horde, there is a plan to suit you! Choose from our Classic, Veggie or Family plans and enjoy the option to swap meals for your perfect menu with our flexible plans.
What we liked most about it:
● Enjoy quick and easy, step-by-step recipes that can take as little as 20 minutes and a variety of cuisines every week. Easily swap recipes for your perfect menu thanks to our flexible plans.
● Thanks to weekly feedback and ratings from our customers, we're able to fine-tune our future recipes so every HelloFresh meal you cook will be loved by your whole household.
● Receive local and seasonal ingredients in all the right amounts delivered straight to your doorstep.
● Our easy-to-use online app lets you take advantage of our flexible plans when you're on the go. Swap your meals, change your delivery day or skip a week, all at the touch of a button.
● With all the meal planning and grocery shopping done, you can relax knowing dinner at your place is sorted.
Services Offered
When checking out a meal delivery service, there is a checklist that it needs to meet. Let's see how HelloFresh does at meeting this checklist.
↑
Delicious Recipes
HelloFresh certainly delivers in this area. There menu consists of a variety of recipes that are full of flavor. The ingredients delivered to your door are fresh, giving your food the tastiest flavor. Their menu includes recipes such as Bacon, Broccolini, and Feta Fusilli, Jamaican Jerk Salmon and roasted veggies, and Prosciutto Wrapped Chicken Breast with truffle and porcini baked risotto and rocket salad. (Say that three times real fast!)
You don't need to worry about eating the same meal over and over. HelloFresh gives you 10 meals to choose from each week and they are always coming up with new and unique recipes to offer you.
↑
Convenience
Because HelloFresh is delivered right to your door with all the necessary ingredients to cook all its recipes, the convenience is abundant. You won't have to go shopping for your ingredients, which can be a hassle. It's horrible waiting in line at the supermarket.
You won't have to worry about making up a menu for the week. All you do is pick from HelloFresh's recipe line up. Going out to eat could be a possibility but its just so expensive and not very healthy.
↑
Nutritious and Healthy
Speaking of healthy, HelloFresh always delivers a well-balanced meal with a good ratio of protein, carbs, and fat. They always include fresh vegetables and lean meats. Their portions are filling but just right for a sensible diet. You won't be overeating on this plan because of huge portions.
The recipes are created by Australian Masterchef, Tom Rutledge and he believes in using simple, healthy ingredients. He makes healthy recipes by using plenty of spices and herbs to give flavor, not fat. He also understands the struggle of cooking at home with little time, so his recipes are meant to be cooked in 30 minutes or less.
↑
Ease of Use
Becoming a HelloFresh customer is super simple. All you need to do is choose which meal plan is asking you to take it home. There are three to choose from; classic, vegetarian, and the family plan.
Based on your choice of box, you have your choice of the number of recipes each week and amount of servings per recipe. With the classic plan you can choose 3, 4, or 5 recipes per week with 2 or 4 servings per recipe. The family plan always comes with 4 servings, but you can get 3, 4, or 5 recipes each week. The vegetarian options are 3 or 4 recipes with 2 or 4 servings per recipe.
Once you've made all your choices, all you need to do is sit back and wait! You'll soon have fresh ingredients delivered right to your door with colour recipe cards with easy to follow step-by-step instructions.
↑
Price
With the $20 off for each of the first four orders, makes it $80 off all together. This meal plan is very affordable. The classic plan will cost only $5.70 per serving. The Vegetarian plan costs just $5.81 per serving, and the family plan, which is the thriftiest, is just $4.79 per serving.
Considering all the time and money you'll be saving by not having to buy groceries at the supermarket, this is a steal!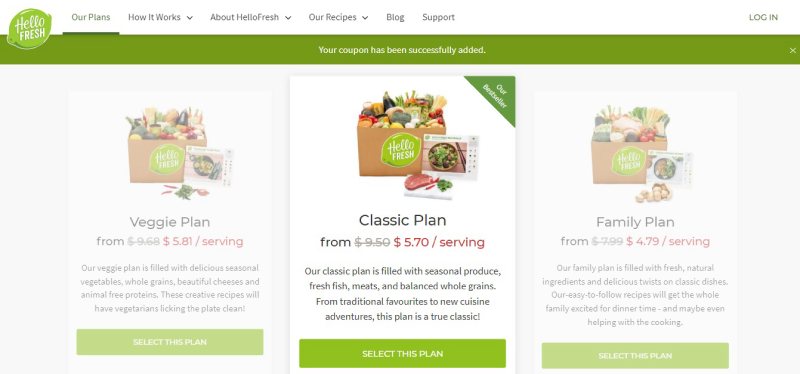 ↑
Should I give HelloFresh a try?
Absolutely! If you're looking for simple, easy to prepare meals that don't take a ton of cooking experience, HelloFresh is a safe bet. For more adventurous cooks, you may want to consider a different service. HelloFresh specializes in weeknight staples that are quick and easy. No frills, just delicious meals for you and your loved ones. Also, you can't beat the price on this service. Check and see if they're currently running any promotions and try to get yourself a discounted rate for your first time. HelloFresh is a solid meal delivery service worth anyone's time who wants to save a little money and cook from home. Oh! They also have wine delivery on top of the meals. Who can argue with a home-cooked meal and a glass of wine after a long day?