Blue Apron is another great option for meal kit delivery services. Because of its numerous weekly options, diverse diet plans, and budget friendly prices, consumers can't go wrong with Blue Apron. Blue Apron does offer a vegetarian meal plan, but not a plan specifically for vegans.
Also, Blue Apron recently partnered with Beyond Meat, so they will soon be offering meals that incorporate this increasingly popular meat-substitute to their meals.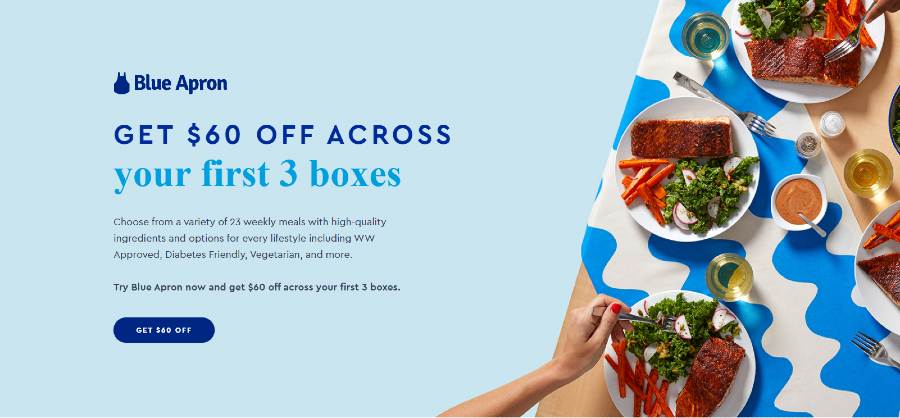 Is Blue Apron Vegan Friendly?
Even though they do not have a specific option for a vegan meal plan, Blue Apron is vegan friendly. Blue Apron offers a vegetarian meal plan that feeds two people, so it's perfect for couples who choose vegan diets or an individual who wants leftovers.
Similar to Hello Fresh, you can opt to not receive certain ingredients and forgo other ingredients if they don't fit into your diet or preferences. So even though Blue Apron offers only a vegetarian option, you can still customize it to vegan preferences.
With Blue Apron, you can get cooking some fantastic meals that will divert from your daily routine (in a good way). Some examples of Blue Apron meal options include:
Baked Tofu with Creamy Tomato Curry
Mushroom Mazeman With Bok Choy
Butternut Squash Enchiladas with a Honey Chipotle Sauce
Curried Cauliflower with Brown Rice and Cilantro-Yoghurt Sauce
If any of the above meals have non-vegan ingredients, you can substitute with vegan friendly options such as maple syrup in place of honey or coconut yogurt in place of milk-based yogurt.
PROs
23 Weekly Recipes including Carb-conscious, Vegetarian and more
Meal Prep option - Cook once for 8 servings!
No commitment needed - skip or cancel anytime