Mindful Chef – UK

Meal Delivery Review (2023)
Special offer:
Get 25% Off Your 1st & 2nd Box + Free Delivery!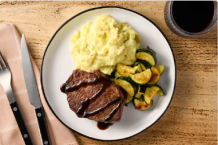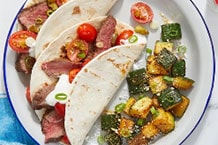 Get 25% Off Your 1st & 2nd Box + Free Delivery!
VIEW PLANS
20 Recipes to Choose from - Fresh Ingredients

Always 450 to 650 calories a serving

Gluten-free, dairy-free, with many vegan options
Don't Have Time? Here's a Short Summary (1-Minute Read)
Stress-free cooking - As the name suggests, Mindful Chef is aimed at helping people with hectic or stressful lives to be able to relax and enjoy the cooking experience, dining on delicious meals in a low-stress way.
Health-oriented - Mindful Chef's recipes and ingredients are clearly health-oriented. This company even runs its recipes past expert nutritionists to get their approval, so you'll get healthy meals if you pick this service.
Premium ingredients - Mindful Chef makes use of some of the best ingredients of any meal kit company. They use grass-fed beef, for example, and free range chicken.
Quick and easy sign-up - The sign-up process with Mindful Chef couldn't be simpler. In no time at all, you can have your account set up and start planning your first meal kit delivery.
Versatile for every customer - It doesn't matter if you're a couple, a family, or even a solo subscriber, Mindful Chef has a plan for you. They offer boxes for 1, 2, or 4 people.
Meal planning doesn't have to be stressful, even when you've had a long day at work, or constantly have to be with your kids. Yes, you can cook flavoursome and healthy meals even when you're short of time. What's even better is that you don't have to go to the grocery store to buy the ingredients..
These perks are made possible through a meal kit delivery service. What this provider does is send you pre-portioned ingredients and planned recipes of how to cook them. Depending on the meal plan or dishes that you have chosen, you're sure to enjoy variety in the foods that you eat.
When it comes to meal kit delivery services, there's Mindful Chef to cater to your tasty and healthy eating needs efficiently and with excellent quality. What does Mindful Chef have to offer, and why should you subscribe to its service?
Mindful Chef is actually one of the credible meal prep delivery services in the UK. This is because it is health-oriented, and their meals are nutritionist-approved. The ingredients they send to your doorstep do not contain gluten, dairy, or refined carbohydrates. This provider deems it a priority to help their customers eat wel
PROs
Get 25% Off Your 1st & 2nd Box + Free Delivery!

20 Recipes to Choose from - Fresh Ingredients

Gluten-free, dairy-free, with many vegan options

Always 450 to 650 calories a serving
CONS
Cooking times aren't always accurate

Lacking choice compared to other providers