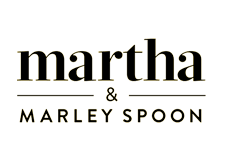 Special Deal:
$15 off your first order
Customer support:
Email, phone, FAQ

This meal delivery kit specializes in creating unique meals from seasonal ingredients to ensure that you get the most nutrition out of each meal. They also deliver complex sauces and dressings premade to add beaucoup flavor to each dish.
What we liked about it:
Over 18,000 recipes from the Martha Stewart Best Recipes
Chilled box keeps food fresh when you're not home
Skip any weeks that don't work for you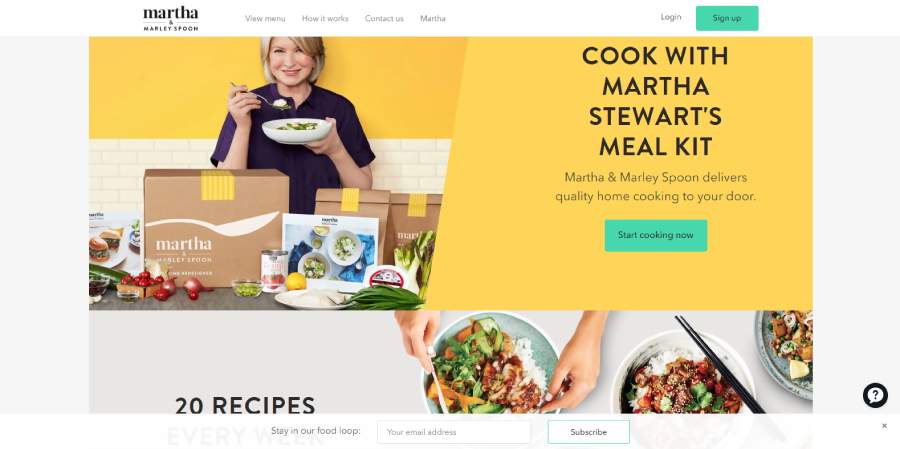 Overview
When looking for the right meal delivery service for you, the food is the most important aspect. If you don't get hungry looking through the available recipes, that meal delivery service is not the right choice.
Marley Spoon has so many mouthwatering recipes available. All you have to do is browse through their available meals and you'll understand what I'm talking about. Each week you get a mixture of comfort foods and ethnic foods to choose from.
You won't have to worry about every getting bored because Marley Spoon develops new recipes all the time. They are full of flavor and color. You will certainly be considered a cooking whiz when you set your table with these delicious meals.
Back to top ↑
Menu Type Available
Martha and Marley Spoon offer boxes curated for two people or four and you can choose to buy 2, 3, or 4 meals per week. Each week you choose from the 20 recipes they offer, and you can filter them by category.
They have five different categories: health and diet, vegetarian and vegan, meat and fish, under 30 minutes, and family friendly. This helps you to hone in on recipes that you will enjoy the most. They also have some options that are gluten-free, dairy free and low carb for people with specific diets.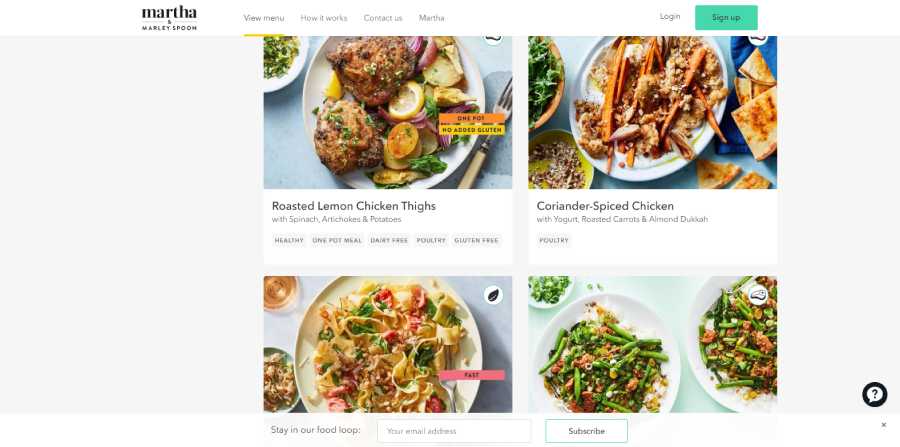 Back to top ↑
Delivery
Martha and Marley Spoon deliver to most of the states in the U.S. They allow you to check your zip code to make sure before making a purchase that they will indeed deliver to your area. Once you've selected a plan, you can expect your box to arrive on your specified day in an insulated and recyclable box that will keep your food fresh until you are home to put it away.
If for any reason you won't be home one week to receive your order, you can cancel that week without charge. Shipping costs $8.99 for each box.
Back to top ↑
Cost
This box might seem a little pricey at first but they do deliver gourmet style foods that you can expect to see in Martha's magazines or on her TV show. If you are one to enjoy the finer things in life but want to do it from the comfort of your home with the convenience of having the ingredients prepped and delivered, you'll find this meal delivery kit worth the money.
For the two-person box, 3 meals per week costs $62.93 plus shipping. The price per serving is about $10.50. This price per serving goes up a little for the two-meal box and down a little for the four meal box but not by much.
The four-person box the average price per serving is $8.24. This is actually a pretty good deal.
But, they make it even better by offering $15 off your first four boxes for first time customers.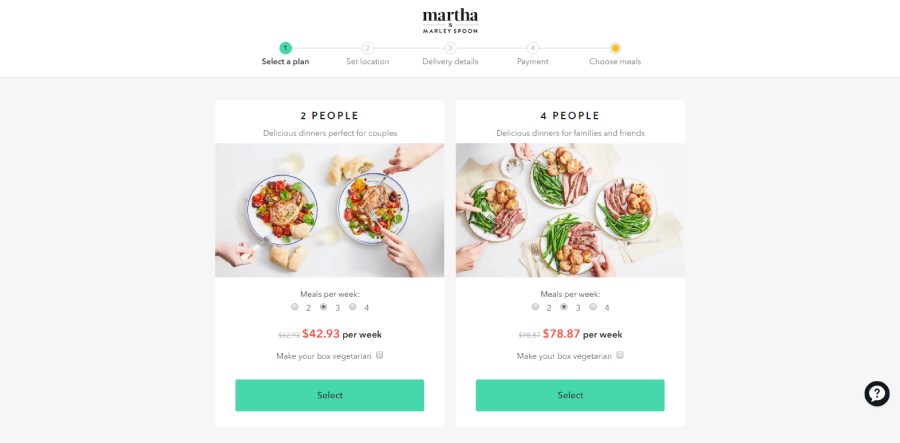 Back to top ↑
Customer Support
You can contact customer support on the phone or by email. They also have a pretty extensive FAQ page that answers in depth questions about how their subscription works and what you can expect to receive in your box.
Back to top ↑
Conclusion
Marley Spoon did a good thing by joining ranks with Martha Stewart to create a meal delivery service that will deliver high quality ingredients to your door so that you can create a beautiful dinner for your home.
Back to top ↑
Martha and Marley Spoon Meal Delivery
PROS
Use seasonal ingredients for freshness guaranteed
Easy and fast recipes with color recipe cards
Order only when you want
Premeasured and prepared ingredients
Choose your own meals
Chilled box keeps food fresh and safe
Healthy meals for the whole family
CONS
Shipping costs extra
Requires some complex utensils at times