Special deal:
$80 off and free shipping
Customer support:
800 number, FAQ, email
Green Chef diet meal delivery service is certified organic and claims to be a good option for couples and families alike who value organic and non-GMO foods. This is their stand apart feature. If you are weary of pesticides, additives, and preservatives, this meal delivery service is for you.
What we liked about it:
Easiest way to eat keto, paleo, vegan, vegetarian, gluten-free or pescatarian
Easiest way to follow a healthy lifestyle
More meal choices for any lifestyle (i.e. Keto, Paleo, Vegan, etc.) compared to our competitors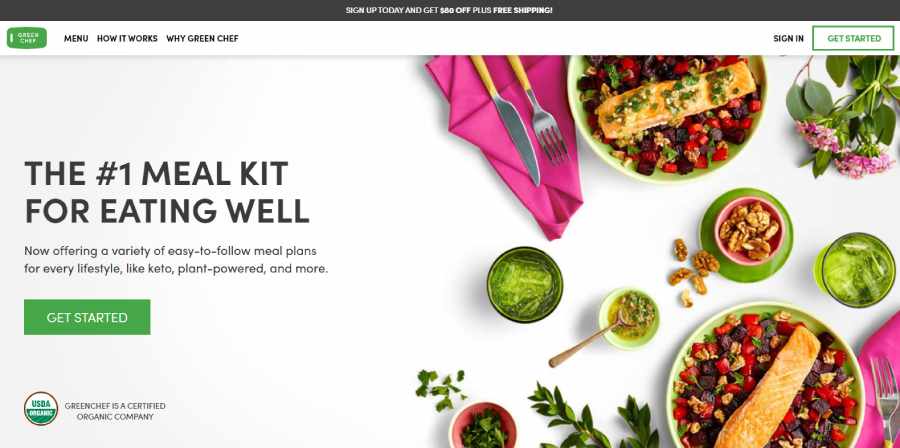 Overview
Green Chef is a meal delivery service company that is known for offering a convenient way to eat healthy. This company focuses on sustainable and clean ingredients with extra flavor.
Back to top ↑
Menu Type Available
Green Chef's menu plans are organized by eating style and number of people.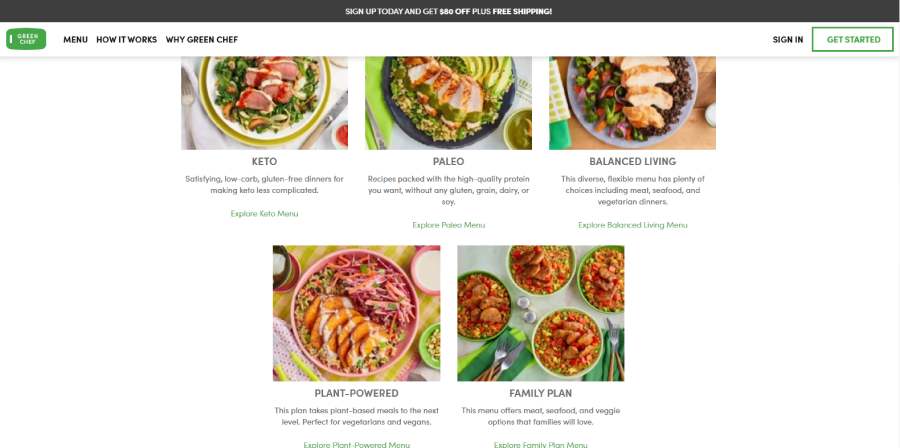 Back to top ↑
2 Person Plans
These plans are of course, designed to feed a couple or one person who will eat one meal twice. This plan comes with four different options.
Balanced Living – This is a general healthy and balanced meal plan with the choices including meat dishes, seafood dishes, and vegetarian dishes.
Keto – If you are on the popular keto diet, you can make it much easier to stick to by using this meal plan.
Paleo – This meal plan will deliver recipes that fit into the paleo eating theory.
Plant powered – This meal plan is for the vegetarians in the world.
Back to top ↑
Delivery
Once you've selected your plan and weekly menu choices, you simply wait for the box to be shipped to you each week. When it arrives, you get all of the ingredients you need to cook a delicious meal for all to enjoy. The ingredients come prewashed, prepped, and premeasured which takes out a lot of the work for you.
The ingredients come packaged really smart and safe in a stay cool box so that it arrives still very fresh.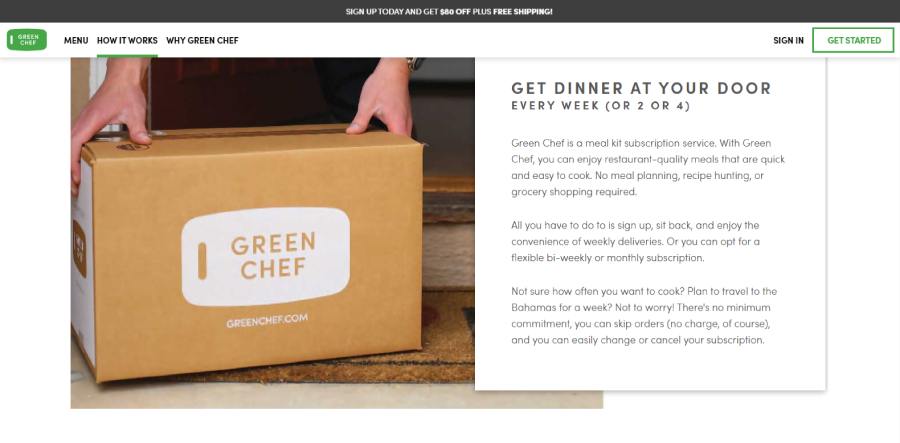 You will always have the option to skip a week, month, or cancel your membership whenever you feel like it. There is no commitment with Green Chef. Each box ordered from Green Chef comes with a $7.99 shipping and handling fee.
Back to top ↑
Cost and Special Offer
Green Chef is now offering a special offer of $40 and free shipping off your first order. You will also get $20 off your second and third order.
The price of your meal plan would depend on the choices you make. Within the 2 person plan here is the list of pricing per plan:
Keto – $12.99 per meal
Paleo – $12.99 per meal
Omnivore – $11.99
Vegan – $11.99
Vegetarian – $11.99
Gluten-Free – $11.99 per meal
Pescatarian – $11.99 per meal
The family plans are both $10.99 per serving.
Back to top ↑
Customer Support
If you have any questions about how this meal delivery service works, their customer support page has a wealth of information logically classified into topics of FAQs.
You can also get in contact with customer service by calling the 800 number or emailing customer support.
Back to top ↑
Conclusion
This meal delivery service is a great choice for those who like ethnic meals with fresh and organic ingredients. It helps to provide a convenient way to eat healthy without so much work. Take advantage of the special offer to give it a try.
Back to top ↑
Green Chef Meal Delivery
PROS
High quality clean ingredients
Plenty of meal plans to choose from
Delicious, healthy, and exciting menu
Easy to follow recipes
Option for weekly, bi-weekly, or monthly subscriptions
Change or cancel subscription at any time
Restaurant flair cooked at home
Best company for keto meal plans Non-GMO and organic ingredients Signature sauces add flair to the meals Ingredients come color coded according to recipe
Non-GMO and organic ingredients
Signature sauces add flair to the meals
Ingredients come color coded according to recipe
CONS
You don't get to choose your own meals