Green Chef KEto
Visit Site
People looking to cook and eat more sustainably know that shopping at a farmers market everyday isn't an option. Most of us don't live in a community surrounded by organic farms and getting farm-fresh produce can be difficult. Green Chef is a meal delivery service that hopes to bridge the gap between growers and consumers. They've partnered with organic farms and top purveyors to offer almost 100% organic produce. That means food that's grown ethically is delivered right to your door. In addition to being "green," the produce tastes incredible because it's been raised right. You'll taste the difference in every bite of these amazing pre packed meals. With a variety of meal plans that cater to all sorts of diets; vegan, vegetarian, gluten-free, keto, etc, there's something for everyone to enjoy. Green Chef has taken the extra effort to categorize its meals and recipes to make sure that all diets are respected and you can easily navigate which dishes are right for you and your family. This polished meal delivery service will surely wow you and we're here to tell you exactly why it's a winner.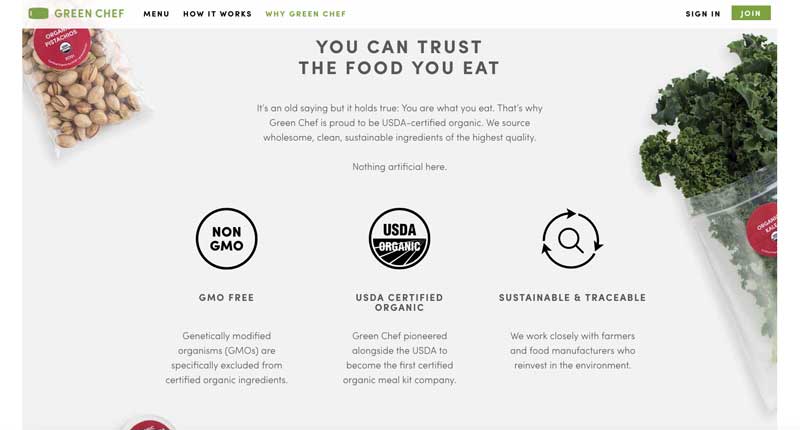 Is Green Chef easy to use?
Green Chef's website is so simple and clean. There pricing and meal plans are easy to understand and order. Understanding what ingredients are in each meal kit and if they are diet friendly is easier at Green Chef than any other meal delivery service. You can plan your meals weeks in advance to make sure that dinners are taken care of and you won't need to worry after that, because it's scheduled and delivered right to your door. It's much easier than shopping for each and every ingredient at the grocery store. You'll enjoy how easy Green Chef is to set up and get started.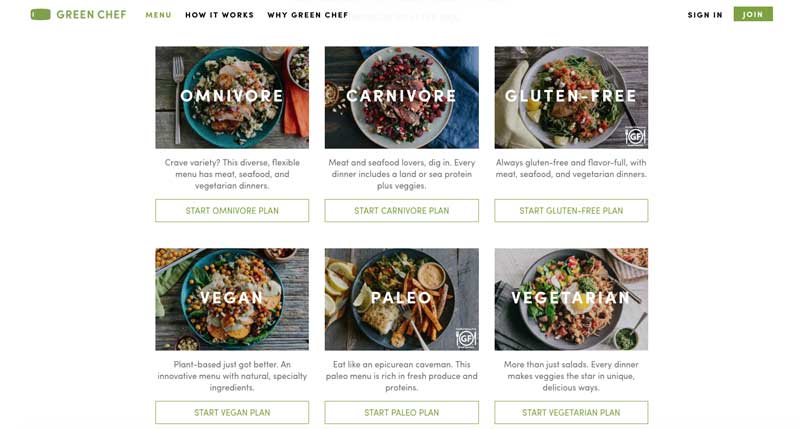 ↑
Is Green Chef affordable?
Each meal costs about $10. That's a little higher than standard, but considering the quality of ingredients, it's very competitive. Because the majority of the ingredients are organic and sourced with care, you're getting the freshest, most delicious and healthiest meals possible. So much food goes to waste. Green Chef cuts the waste by giving you pre portioned sizes that work perfectly in every meal. That means no food going bad in the refrigerator. All the money you throw out by not using groceries you've purchased is money saved. It also is better for our planet, which you could argue is saving money down the road. The family plans and two-person plans help you budget and stay on target. At the time of writing this review, Green Chef will give you $25 of your first order. It's a really great deal.
↑
Is the food good?
Green Chef's website says, "We're your sous chef…" And, it's so true! You're getting restaurant quality ingredients already prepped and ready for you to cook. It's amazing. Imagine the tasty food at your local farm-to-table restaurant. Now, imagine eating it every night for dinner at home. That's the kind of quality you're getting with Green Chef. It does take a little effort to prepare but the results are worth every chop. The menu at Green Chef is diverse with all sorts of cuisine for you to try. If you don't live in a large city, you might not have access to some obscure international ingredients. Green Chef sends them right to your door. You're going to love discovering new ingredients and trying new cuisines. Green Chef's are truly delicious meals.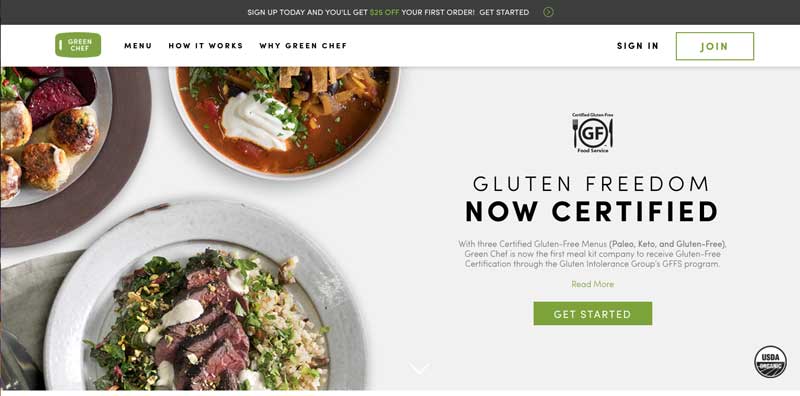 ↑
Are the meals easy to prepare?
Everything is pre measured for you. All you have to do is chop a little and get cooking. You don't need a cooking degree all you need to do is follow the detailed instructions that Green Chef sends with every meal. It's easy and fun to do with loved ones. You can delegate tasks that you think your kids can handle. Let cooking become a way for you and your family to bond. It's a great adventure and doesn't take much effort.
↑
Should I give Green Chef a try?
If what's in your food matters to you, yes. Green Chef does an incredible job of procuring the best ingredients from farms and suppliers they trust. That means eating more healthily. The results are delicious and unlike most other meal delivery kits. The service is easy to use with a huge catalogue of recipes that will be perfect for any speciality diet. Although it might be a dollar more per meal than most other meal services, you can taste the difference. You're also getting peace of mind because you know exactly what's on every plate. You're going to love cooking with Green Chef.