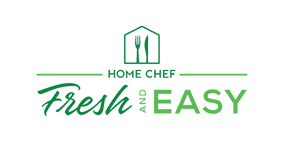 Special deal:
$80 off for 1st time orders
Customer support:
Toll-free number, FAQ

What is really special about Fresh and Easy is their convenience. The meals are prepackaged in a dish that is ready to go in either a serving bowl if it's a salad, the oven, or on the grill. This drastically cuts down on cleanup, and let's face it; nobody like to clean.
What we liked about it:
Adapt your order to fit your family and schedule
Free delivery on certain orders
Affordable meals from $8 and up per serving
Overview
This meal kit is for the uber busy and those who hate to cook and clean. It is created in such a way that all the prep you have to do is take it out of the box. They succeeded at making dinnertime super easy.
Without a doubt, the best thing about this meal delivery kit is the easy cleanup. If you are someone who hates to do dishes, you'll love this meal plan. All their dishes come ready to cook in safe packaging.
If you choose a salad, it comes in portions ready to mix and serve. If you ordered an oven ready meal all you do is take off the top and throw it in the oven. When you are done just trash it. No crusty pots and pans to clean. If you choose a grill ready meal, the proteins are marinated and ready to throw on the grill and the rest of the ingredients come in an easy to use foil packet that you put directly on the grill.
Back to top ↑
Menu Type Available
Fresh and Easy doesn't offer different plans. Every Monday they roll out nine different meals to choose from.
The salads are made with ingredients like baby spinach, cucumber, grape tomatoes and healthy dressing. If you choose a meal that is oven ready, you'll get meals like seasoned chicken breast and asparagus with roasted tomatoes. If you choose meals that are grill ready, it will come with a protein like a juicy steak, and some foil packet veggies or potatoes, all seasoned well.
You can choose between 2, 4, or 6 servings per meal. This makes it easy to use for a couple or a family. You can also choose between 2-6 meals per week.
Back to top ↑
Delivery
You can choose your delivery day and skip a week whenever you want. The great thing about this meal delivery plan is that if you buy more than $50 worth, your shipping is free.
All the ingredients are shipped to your home in an insulated cardboard box that is recyclable.
Back to top ↑
Cost
Fresh and Easy is offering $80 off for first time customers.
The price of your meal plan will depend on the amount of servings and meals per week you choose. It will also depend on the meals you choose. Some cost more than others. Salads are going to be cheaper than steaks, undoubtedly.
The meals cost from $8 and up. As the box above shows, a weekly meal kit of 2 servings per meal, three times a week costs $59.70. That works out to about $10 a meal. If you choose 6 meals per week of 6 servings the price would be around $358.20.
As long as you order over $50 worth of meals, shipping is free and the first week you get $80 off.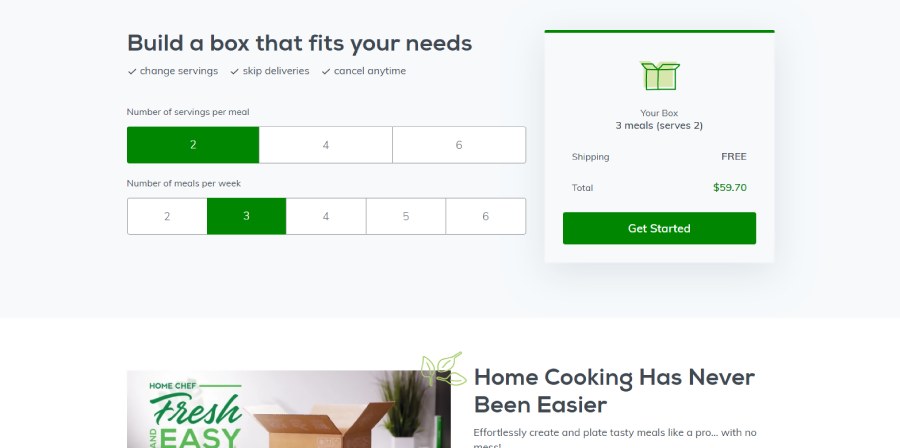 Back to top ↑
Customer Support
If you need to contact Fresh and Easy at any time you can call their toll-free number between 9am-6pm CST on weekdays. They also have an FAQ page that answers most questions that people who have about their services.
Back to top ↑
Conclusion
This has to be the easiest version of a meal delivery service available. Aside from buying from the frozen food aisle at your grocery store, this is the best way to cut down on prep, cleaning, and cooking time for dinner but still sit down in the comfort of your own home to eat.
Back to top ↑
Fresh and Easy Meal Delivery Review
PROS
Adapt your order to fit your family and schedule
Skip deliveries or cancel anytime
Choose salads, oven ready, or grill ready meals
Free delivery on certain orders
No clean up with packaging made to cook
Affordable meals from $8 and up per serving
15 meal options to choose from each week
CONS
Simple fast meals mean less pizzazz and flavor