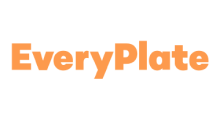 Special deal:
Get 18 meals FOR ONLY $3.33 EACH
Customer support:
24/7 online chat support

The biggest feature that sets EveryPlate apart from its' competitors is the price. They are the most affordable meal kit delivery service available. If you've looked around at other companies and decided that meal kits just aren't in your budget, but you love the idea, EveryPlate is the one for you.
What we liked about it:
America's Best Value Meal Kit
Get more bites for your buck at only $4.99 per serving
EVERY WEEK a new menu of 8 chef-created recipes to choose from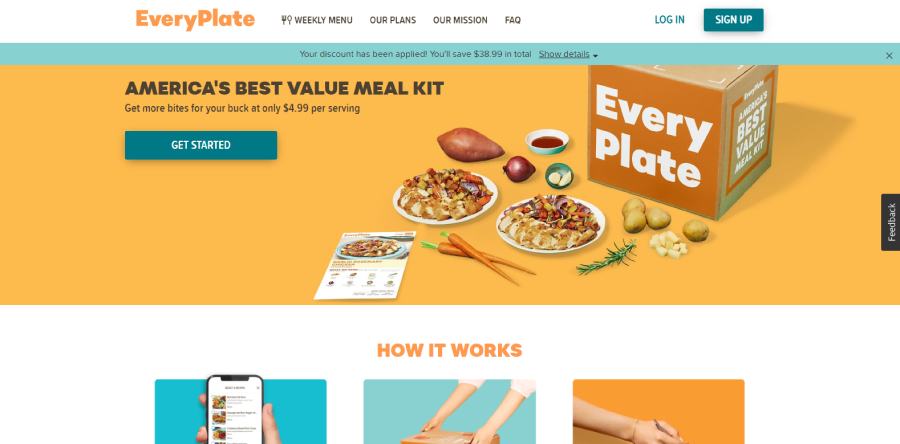 Overview
This meal kit delivery company is made for the working people. Their meals are delicious and a bit playful while other meals are just what mom used to make. They are sure to please everyone in the house and won't take hours to cook.
You get your desired meals sent directly to your door, no shopping, no driving, and no planning necessary. It's the epitome of convenience.
Back to top ↑
Menu Type Available
EveryPlate gives you some options when it comes to your meal plan. You can choose between 2 or 4 servings per meal and if you choose 2 you can choose 3, 4, or 5 meals per week. If you chose 4 serving meals, that plan comes with 3 meals per week.
Each week EveryPlate has a chef curated menu with 8 delicious recipes to choose from that will bring the whole family around the table while you serve mouthwatering meals.
You'll be cooking comfort foods like bacon mac and cheese, smothered and stuffed meatloaf with potato wedges, and tomato soup with grilled cheese. You can also choose from exciting new recipes like sausage and roasted pepper risotto, pork carnitas bowl, and beef bibimbap bowl.
EveryPlate sends you all the ingredients needed to cook each meal and they choose fresh and healthy ingredients for their dinners. Their mission is to create menus that offer filling, protein packed meals that are easily cooked in around 30 minutes.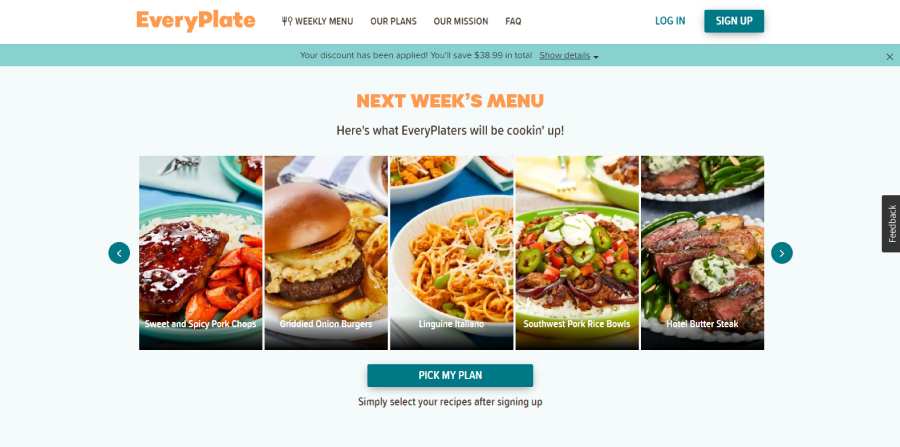 Back to top ↑
Delivery
EveryPlate delivers their boxes on Tuesday, Wednesday, Thursday, and Friday. You can choose which day would work best for you. You can also change this day anytime by logging into your account and choosing a different delivery day. If you will be out of town or simply won't need a box, you can easily skip a week the same way.
Your foods will arrive to your doorstep in a fully insulated box that is designed to keep your food fresh for up to 48 hrs. It is fully recyclable so you don't have to worry about putting the environment at risk.
Back to top ↑
Cost
At the moment, EveryPlate is offering a great deal for new customers. You can get $10 off your first three deliveries and free shipping on your first box. On an already affordable menu, this makes trying them out very easy on your wallet.
When your initial special offer is over, you will be paying a flat $4.99 per serving and $8.99 for shipping. This has yet to be beaten by any other competitor.
Back to top ↑
Customer Support
EveryPlate doesn't leave you hanging if you have questions. You can contact a customer service agent 24/7 through live chat on their website or you can call their toll-free number during business hours.
You can also take a look at their FAQ page and see if your questions are answered there. They have plenty of information available with just a short read through.
Back to top ↑
Conclusion
EveryPlate was created for everybody. Anyone can afford it. Anyone can cook their meals. Anyone that doesn't require special dietary restrictions can enjoy their meals. No, they might not have a lot of frills and bells attached to their food, but they provide an affordable and comforting way to consistently put healthy food on the table.
Back to top ↑
EveryPlate Meal Delivery
PROS
Less packaging and simple ingredients make a cheaper meal kit
No commitments- skip or cancel whenever you want
Insulated packaging keeps ingredients fresh through delivery process
Option of portions for 2 or 4 people
Special discount for students
Different menu each week to choose from
Easy to follow recipes with recipe cards included
CONS
No special diets
Not a big weekly selection