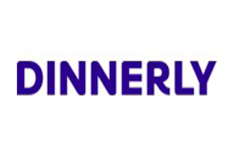 Dinnerly offers a similar service to many fresh-food-to-your-door companies such as HelloFresh and BlueApron, however, it's a much more affordable alternative (more on that later) to the bigger companies. I'll be the first to admit that making fresh home-cooked meals can feel like a bit of a drag sometimes… not only do you have to buy all the right ingredients but then you have to figure out what to do with them. Not only does this take time out of an already busy schedule, but it leads to more food waste when we buy more than we need to, or buy the wrong ingredients altogether.

Dinnerly keeps the task of making tasty home-cooked meals as simple as it can be, and at only $5 per head there's no reason why you shouldn't be trying it! It's quite a new service at the moment and it doesn't cater to all requirements (i.e. boxes will always have a meat or other protein in them) but they plan to introduce a wider selection to cater for everyone in the future. That being said, it is clearly stated on each recipe what potential allergens and intolerances are.
Is Dinnerly Easy to Use?
Absolutely, yes! As far as it goes in comparison to the other mail-order food services, it is by far the easiest to get going with. Their website is very simple and intuitive, and you simply have to pick the number of people you want to feed and off you go. You will be sent a box full of delicious and fresh ingredients each week along with their recipe cards… just add oil and salt and you will be good to go.
All their recipes are displayed on their website so you can refer back to them in future if you want to re-create one of their many exciting dishes.

↑
Is Dinnerly Affordable?
Again, yes! Dinnerly is more than affordable, especially when compared to some of the other fresh cooking kits on the market. It's by far the most affordable service that we have tried. Whilst others offer introductory pricing, Dinnerly's pricing is still well cheaper than that at a mere $5 per head. Their two-person box comes in at $38.93 per week with three recipes which provide two portions… given the quality of the ingredients and recipes, this is an absolute steal.
↑
Is the Food Good?
Much of Dinnerly's recipe offerings are staple and comfort food favourites. If you are looking for fine dining at home then Dinnerly isn't going to be for you, but if you want to make great home-cooked burgers, meatballs, tacos and other recipes then it's worth giving them a shot.
The menu and range of recipes with Dinnerly is vast and there's something for everyone in each box, even for the pickiest of eaters. There's a great amount of culinary diversity in the Dinnerly boxes too, which is great if you have ever wanted to try food from other cultures and different types of cuisine and didn't know where to start.
↑
Is the Food Easy to Prepare?
Yep, it's all very straightforward. Even if you are completely new to the kitchen and don't cook that often, you will find Dinnerly's recipes very easy to master. Most of them can be made in as little as half an hour and all the portion sizes are pre-prepared and measured out, meaning you spend less time in the kitchen and more time enjoying your spare time.
Each box comes with detailed recipe cards which tell you exactly what to do step-by-step, so you will never find yourself scratching your head in confusion with a ton of mysterious ingredients in front of you.
↑
Should I Try Dinnerly?
Yes, absolutely. If you want a box full of fresh ingredients which are quick and simple to prepare at a friendly price point, then there is no reason why you shouldn't give them a try. If you want to be more adventurous then Dinnerly may not be right for you – they mostly specialise in staples and comfort food, remember – but if you just want simple recipes which are easy to make and have stood the test of time,  then you should get onto Dinnerly right away!