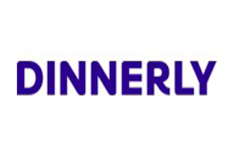 Dinnerly offers a similar service to many fresh-food-to-your-door companies such as HelloFresh and BlueApron, however, it's a much more affordable alternative (more on that later) to the bigger companies. I'll be the first to admit that making fresh home-cooked meals can feel like a bit of a drag sometimes… not only do you have to buy all the right ingredients but then you have to figure out what to do with them. Not only does this take time out of an already busy schedule, but it leads to more food waste when we buy more than we need to, or buy the wrong ingredients altogether.

Dinnerly keeps the task of making tasty home-cooked meals as simple as it can be, and at only $5 per head there's no reason why you shouldn't be trying it! It's quite a new service at the moment and it doesn't cater to all requirements (i.e. boxes will always have a meat or other protein in them) but they plan to introduce a wider selection to cater for everyone in the future. That being said, it is clearly stated on each recipe what potential allergens and intolerances are.
Should I Try Dinnerly?
Yes, absolutely. If you want a box full of fresh ingredients which are quick and simple to prepare at a friendly price point, then there is no reason why you shouldn't give them a try. If you want to be more adventurous then Dinnerly may not be right for you – they mostly specialise in staples and comfort food, remember – but if you just want simple recipes which are easy to make and have stood the test of time,  then you should get onto Dinnerly right away!
We receive advertising fees from the service providers we rank below. Advertising Disclosure
learn more