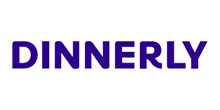 Special offer:
Get $10 OFF + Free delivery on the first order
Customer support:
800 toll free number, contact us portal

What is unique about Dinnerly is that they cut back on cost by having digital recipe cards that you look up on your app or on the website. You can either print them out yourself or just follow the recipe by looking at your device.
What we liked about it:
FREE delivery on first box
ALWAYS $5 per serving
The most affordable Meal Kit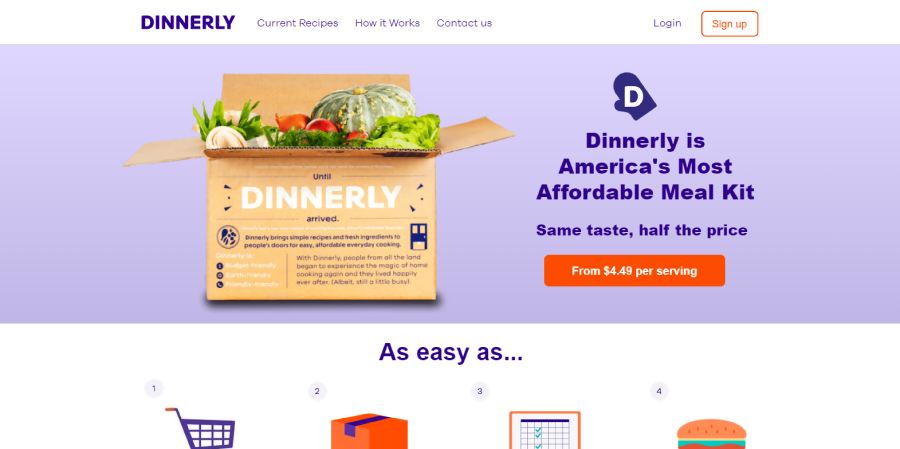 Overview
Dinnerly offers the same as most other meal service plans but with a slight twist. They wanted to offer a cheaper and easier meal plan to their customers that is still tasty. They accomplished this in a variety of ways.
The first is, of course, cheaper recipes. Each recipe uses a limited amount of ingredients to make it easy and affordable without slacking on taste. These meals use six ingredients with six steps to keep things easy and quick to help you get back to your other responsibilities.
Dinnerly also uses the digital recipe cards and thrifty meal planning to help you get a good, nutritious meal delivery box in an affordable way.
↑
Menu Type Available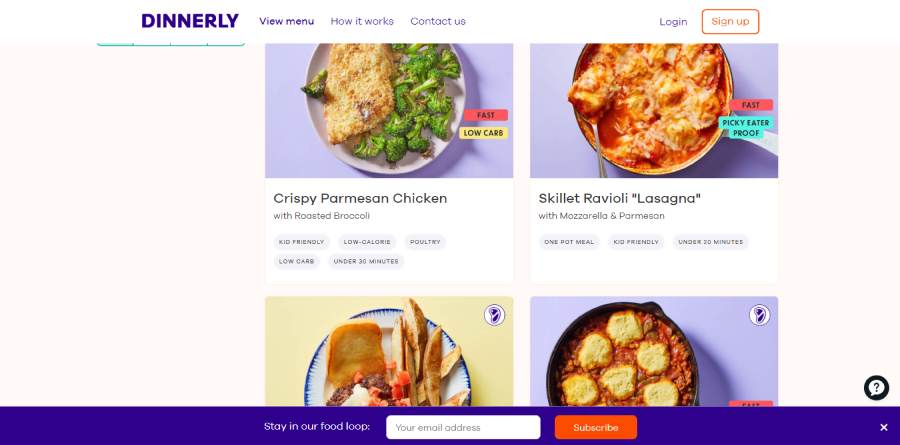 Each week Dinnerly rolls out 14 different recipes for you to choose from. Depending on the size of your family unit you have some choices to make. You can either choose a 2 person box or a family box (4 servings).
Each box has the option of 3, 4, or 5 meals per week. The only dietary option that they give you is whether or not you want your box to be vegetarian.
You can expect to see recipes like pulled pork shawarma, Thai coconut curry chicken, and herbed pork tenderloin with mashed potatoes and gravy.
↑
Delivery
Dinnerly delivers all the ingredients you need in an insulated box directly to your door. Unlike some other meal delivery companies, Dinnerly doesn't separate your box by meals. You will get all the ingredients for all your meals in one box, packed to stay fresh. This also keeps some waste down.
↑
Cost
Dinnerly has a special on right now that is offering $10 off your first three boxes. That's a total of $30 in savings, bringing your price per serving down to around $4.65.
After your first three boxes the price will go back up to its regular price. If you choose the box for 2 people and four meals a week you will pay $48.11. If you choose the family box with four meals you will pay $84.03.
As you can see the more you buy the cheaper the cost per serving. Shipping for the box costs $8.99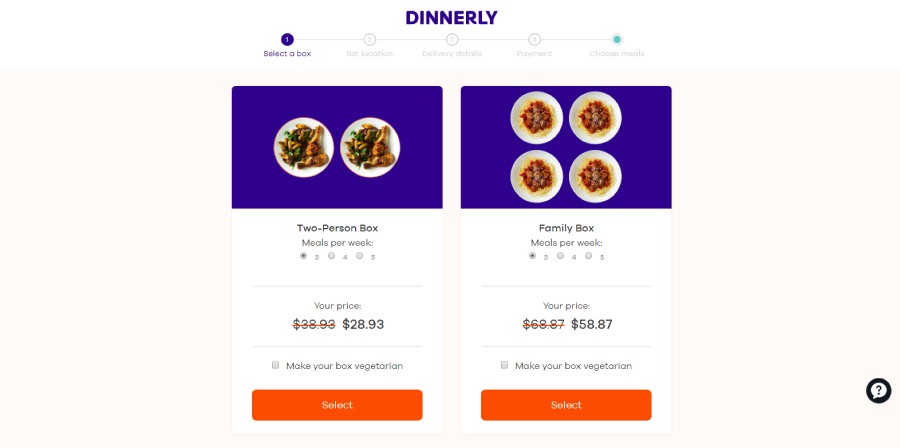 ↑
Customer Support
Dinnerly provides customer support through their toll free 800 number and through email support. You can also just type in a question directly into a contact us portal on their website.
Alternatively, if your question is a just a basic question, you can probably find the answer on their FAQ page.
↑
Conclusion
In conclusion, Dinnerly is a meal kit subscription service for those who don't need fancy foods and want to be able to get food ready quickly and painlessly. Dinnerly's simple recipes still delivery some flavor but don't involved a lot of time and effort. You can also appreciate the costs of this box compared to some of the more pricey competitors.
↑
Dinnerly Meal Kit
PROS
Choose your delivery day
Easy to follow digital recipe cards
Foods stay fresh in an insulated box
Skip a week with no penalty
Fresh healthy ingredients
Efficient box kit that saves you money
CONS
No dietary restrictions or food allergy options
Meals are very simple