Finding the right meal kit for those with diabetes may seem challenging. But with this guide on how to choose the best meal kit for diabetes, you'll find the right meal kit for your household.
According to the American Diabetes Association (2018), nearly 34.2 million Americans had been diagnosed with diabetes. Additionally, 88 million Americans age 18 and older had prediabetes, a condition that will lead to diabetes if left untreated. With such a high prevalence of diabetes in the United States, it's no wonder that many are taking their diets seriously and committing to healthy eating habits.
One trend that has caught the attention of many people worldwide is subscribing to meal delivery services. Meal delivery services make cooking and eating healthy easy. With a meal delivery service, fresh and nutritious meals or ingredients are delivered weekly to your door. There's no more tedious meal planning or grocery trips because every ingredient you'll need for dinner comes with the package.
However, with so many options available, it can be tricky to choose the right one for you and your household. When you add the need to find a meal kit that takes the diabetic diet into account, finding the right meal plan seems nearly impossible.
But with this guide to the best meal delivery services for diabetes, you can explore your best options with ease.
What to Look for In a Meal Delivery Service if You Have Diabetes
Choosing the right food can make a huge difference in managing blood sugars. Mostly, sugars come from carbohydrates (commonly known as "carbs"). The more carbs a person eats, especially someone with diabetes who cannot regulate blood sugar, the higher the sugar content in the blood.
This means that someone who is looking to try a meal plan to manage their diabetes should mainly look for plans that offer low carbohydrate options. However, the exact number of carbs that a person should eat to manage diabetes depends on several factors, such as activity level, age, and level of insulin resistance. For the best estimate on how many carbs you should be eating, it's best to consult with your medical doctor.
Additionally, simply counting carbs is not the best way to manage diabetes. In fact, the quality of the carbs matters just as much—if not more—as the number of carbs themselves. For example, choosing whole wheat bread is better than eating processed white bread.
Further, combining quality carbs with other healthy foods will also impact blood sugar. For example, the difference between eating a cup of plain, whole wheat pasta and a cup of whole wheat pasta with chicken and vegetables will have a different impact on blood sugar levels.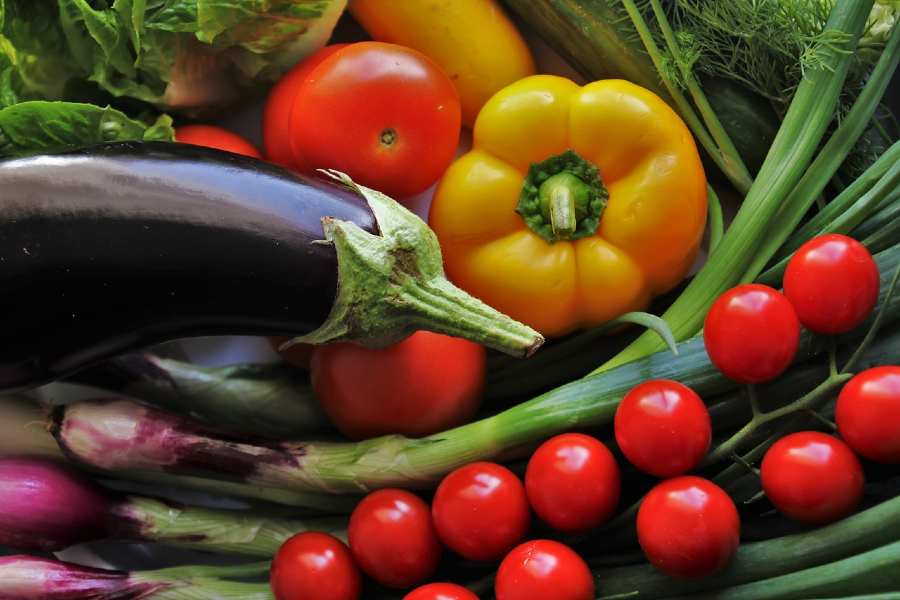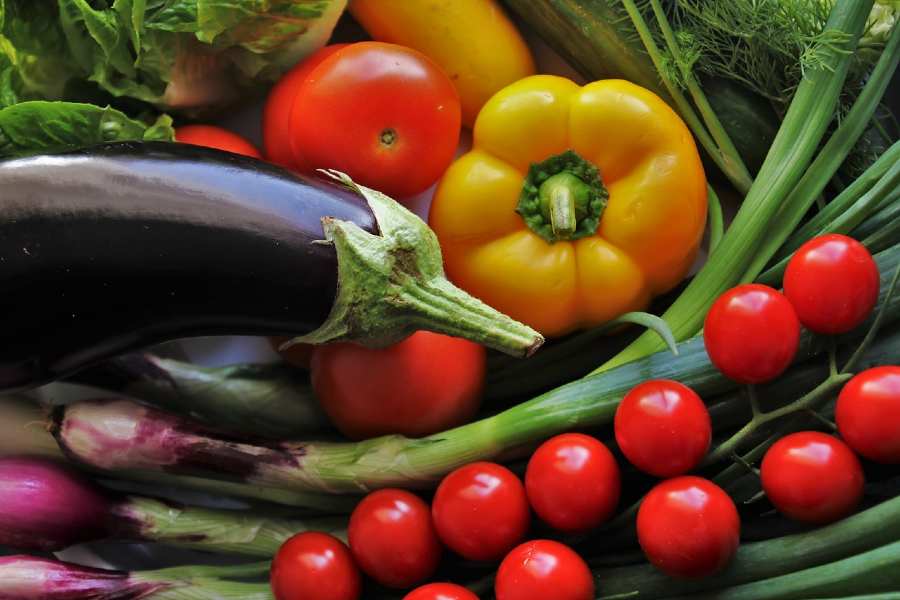 But when it comes down to it, the best approach to managing diabetes is to eat a healthy and balanced diet. While there is no specific diet for diabetes, there are some general food suggestions that can make managing it easier.
Stick to lean proteins, such as turkey, chicken, and salmon.
Choose healthy fats, such as olive oil, avocado oil, and salt-free nuts.
Eat non-starchy vegetables, such as asparagus, broccoli, and salad greens.
Choose high fiber carbs.
Eat portioned meals.
Choose foods that will keep you full so you can avoid unnecessary snacking.
While the above examples are a general way to maintain a healthy diet, it's easier said than done. However, with a meal delivery service, eating healthy doesn't have to be a chore!
Which Meal Delivery System is Best for Diabetics?
Because the key to managing diabetes is eating a balanced diet and correct proportions, subscribing to a meal delivery service is an excellent choice for diabetics.
Meal delivery services have endless options for healthy eating that are fun to cook and eat, easy to prepare, and come with the perfect proportions. Instead of going through the process of meal planning yourself, it's significantly easier to let the meal kit services do the planning for you.
Nearly all meal delivery services are designed to help you maintain a healthy and portioned diet. But with so many choices available, which one is best for diabetics? Below we cover the five best meal delivery services for diabetes and how to customize each one to fit your needs.

Blue Apron is another great option for meal kit delivery services. Because of its numerous weekly options, diverse diet plans, and budget friendly prices, consumers can't go wrong with Blue Apron. Blue Apron does offer a vegetarian meal plan, but not a plan specifically for vegans.
Also, Blue Apron recently partnered with Beyond Meat, so they will soon be offering meals that incorporate this increasingly popular meat-substitute to their meals.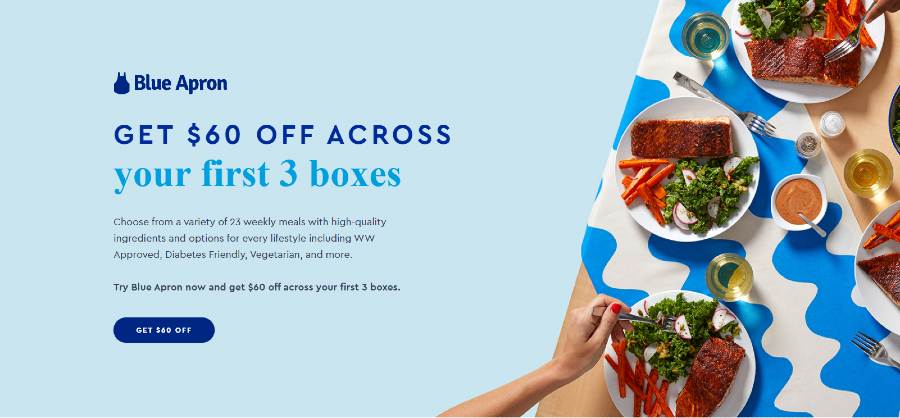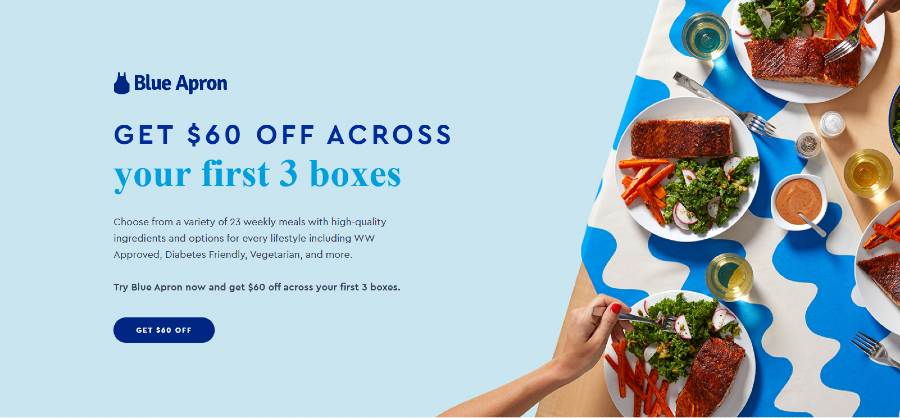 Is Blue Apron Vegan Friendly?
Even though they do not have a specific option for a vegan meal plan, Blue Apron is vegan friendly. Blue Apron offers a vegetarian meal plan that feeds two people, so it's perfect for couples who choose vegan diets or an individual who wants leftovers.
Similar to Hello Fresh, you can opt to not receive certain ingredients and forgo other ingredients if they don't fit into your diet or preferences. So even though Blue Apron offers only a vegetarian option, you can still customize it to vegan preferences.
With Blue Apron, you can get cooking some fantastic meals that will divert from your daily routine (in a good way). Some examples of Blue Apron meal options include:
Baked Tofu with Creamy Tomato Curry
Mushroom Mazeman With Bok Choy
Butternut Squash Enchiladas with a Honey Chipotle Sauce
Curried Cauliflower with Brown Rice and Cilantro-Yoghurt Sauce
If any of the above meals have non-vegan ingredients, you can substitute with vegan friendly options such as maple syrup in place of honey or coconut yogurt in place of milk-based yogurt.
PROs
23 Weekly Recipes including Carb-conscious, Vegetarian and more
Meal Prep option - Cook once for 8 servings!
No commitment needed - skip or cancel anytime

Because of its vast selection of meals, healthy ingredients, and numerous menu options, Hello Fresh is at the top of the list when it comes to the best meal kit delivery services for people with diabetes.
Subscribers can pick from the Classic Plan, Veggie Plan, Family Plan, and the Low-Calorie Plan. Moreover, this meal plan is designed to feed either 2 or 4 people, so it's a great choice for couples and families alike. Each meal comes with the freshest ingredients and is perfectly portioned to feed the designated number of people, so you don't have to worry about overeating.
Every week, Hello Fresh releases a new list of 20 meals that you can choose from. So regardless of your tastes and preferences, Hello Fresh will have meals that you'll love. Because you have the option to choose your meals and set your preferences, people diagnosed with diabetes have the option to choose meals that contain those lean proteins and non-starchy vegetables.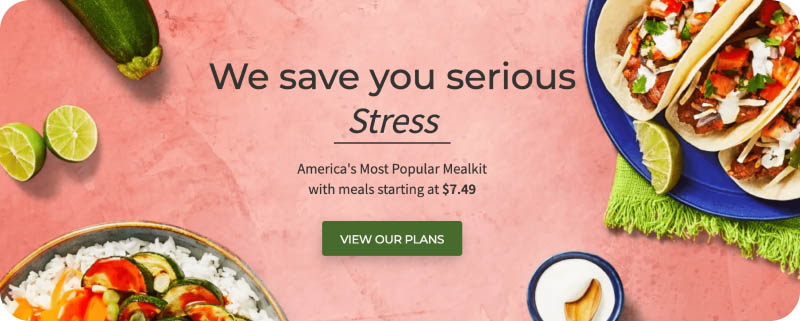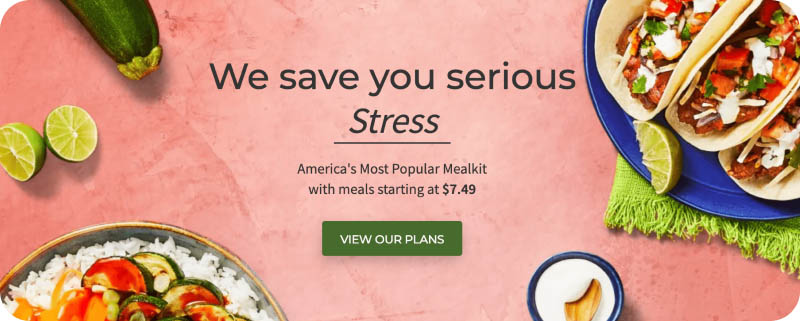 Some examples of meals from Hello Fresh include:
Middle Eastern Chickpea Bowls with Pistachio Rice & Garlicky White Sauce
Yucatan Citrus Chicken Bowls with Poblano, Smoky Red Pepper Crema & Pickled Onion
Roasted Veggie Kale Salad with Parm Frico & Garlic Ciabatta
Rainbow Thai Noodle Toss with Edamame, Chili Sauce, Peanuts & Cilantro
Hello Fresh takes pride in its unique weekly options, and any of the above meals can be made with vegan ingredients.
PROs
Being the most popular meal kit in America
No-commitment subscription that you can skip or cancel anytime
20+ recipes to choose from every week
Meals that you can cook in 30 minutes or less

Home Chef delivered over 10 million meals within the last year, so if that doesn't say something about its popularity then we aren't sure what does. This meal plan offers meals that can be tailored to every diet, and those with diabetes can be sure to find fantastic meal options from this service.
With over 38 meal options to choose from each week, there is bound to be something you'll like on the menu. Additionally, Home Chef has menu options for carb and calorie-conscious meals, so you can control the number of carbohydrates with ease. You can also choose to avoid pork, red meat, milk, mushrooms, shellfish, and nuts if you prefer. Plus, subscribers have the option to customize their meals by upgrading to a different type of meat, swapping out ingredients, and doubling up on protein.
For those with diabetes looking for a great option for a meal delivery service, Home Chef should be high on your list because of its incredible customizability, numerous meal options, and healthy meal choices.


Some examples of recipes you may encounter in your weekly meal plan include:
Italian Sausage Cowboy Pie with Black Beans and Red Peppers
Southwestern Spinach and Mushroom Flautas with Spicy Chipotle Sauce
Mozzarella Turkey Meatloaf and Tomato Jam with Garlic Cauliflower
Caramelized Onion and Cauliflower Pot Pie with Mushrooms and Peas
PROs
Dozens of Weekly Options Including Oven Ready
No Contact Delivery To Your Door
Up to 30 Weekly Meals + No Prep, No Clean Up Options
No Commitment, Skip or Cancel at Anytime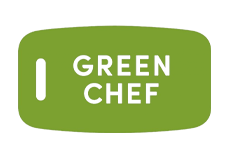 Green Chef is the ideal meal kit delivery service for people who want to eat healthily but still want to eat on a budget. Further, Green Chef makes it their priority to avoid any unhealthy chemicals or meal additives. With menu options that are based on common and popular diet plans such as Keto, Paleo, Vegan, Vegetarian, Gluten-Free, or Pescatarian, this meal plan is perfect for the diabetic who wants healthy meal options.
The official menu options from Green Chef include the Keto + Paleo Plan, the Balanced Living Plan, and the Plant-Powered Plan. While each plan is dedicated to a specific diet, they are highly customizable so that you can choose to add only the ingredients you prefer.
While most meal plans only serve 2 to 4 household members, Green Chef has the option to build a meal kit that can feed up to 6 people at a time. This makes it ideal for larger families who are looking to try a meal delivery service.
Each meal is perfectly proportioned so that the individual does not overeat and only uses the freshest and healthiest ingredients. This makes Green Chef a great choice for those who have diabetes.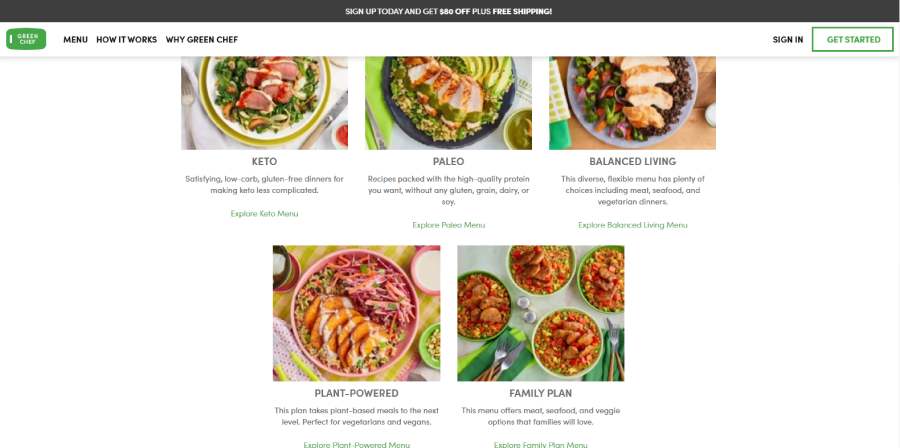 Some potential options for your weekly Green Chef menu include:
Peruvian Chicken with Aji Verde with Jasmine Rice, Roasted Red Bell Pepper, Carrot & Corn
Salmon with Red Pepper Sauce with Broccoli Puttanesca, Tomato, Kalamata Olives & Capers
Cauliflower Couscous Bowls with Snap Peas, Roasted Red Peppers, Dates, Pistachios & Tahini
Mojito Shrimp with Coconut Basmati Rice and Cabbage Slaw with Radishes & Mangos
PROs
Easy Way to Eat Keto, Paleo, Vegan, Vegetarian, Gluten-Free or Pescatarian
Easy way to follow a healthy lifestyle
More meal choices for any lifestyle (i.e. keto, paleo, vegan, etc.) compared to our competitors