Family Meals: Is Using Meal Delivery Service a Good Idea?
For users in
-
Easy-to follow recipes
Healthy Lifestyle Diet
Variety of recipes
Meal delivery services are convenient and save you time and money, but are they worth it for families? Read on to find out.

Meal delivery services can be a great choice for families if done right. Even though it may become costly to feed a family of four, many people find that the convenience, fun recipes, and healthy meals make meal delivery services worth it for families.

Whether you are looking to feed your family of 3 or 6, read below to find out if meal delivery services are right for you.

Are Meal Delivery Services Family Friendly?
Meal delivery services can be family-friendly, but it depends on your family's preferences and overall lifestyle. While some meal services have fancy, exotic meals, others offer more family-friendly plans that have recipes that even the pickiest of eaters will like. In fact, some meal plans even offer plans for children.
If you're looking for a way to save time during the week, having your meals delivered can be a great way to spend less time planning dinner and more time at home with your family. Below you will find a list of the many benefits of meal delivery and the potential cons.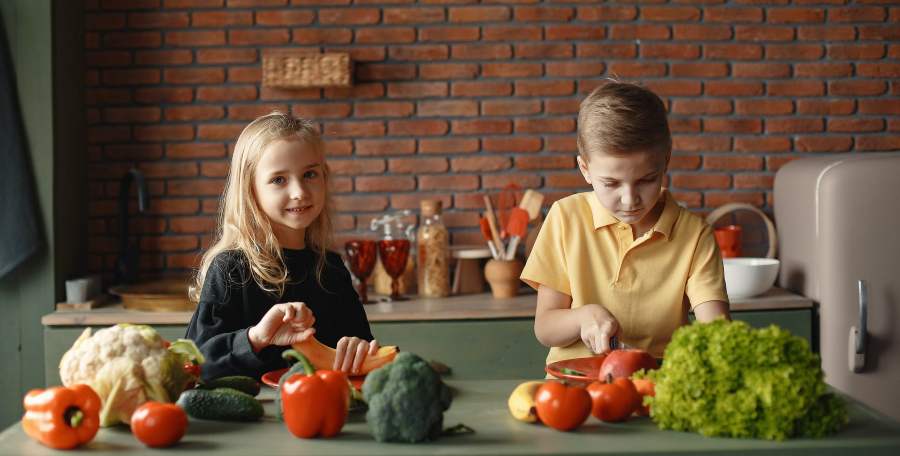 Benefits of a Meal Delivery Service
Many people have turned to meal delivery services because of how convenient they are, but there are several other benefits of a meal delivery service for families. Check them out below.
Saves TimeThe time-saving aspect of meal delivery services is likely one of the biggest reasons people choose to subscribe to meal kit services. Because the food is delivered directly to your door, there is no grocery shopping involved. So, this cuts down on the time spent choosing recipes, writing down what you need from the grocery store, driving to the grocery store, getting your ingredients, and driving back to cook dinner.With a meal delivery service, all you have to do is choose the meals you want each week and they're delivered. When it's all said and done, you save hours each week because you no longer have to plan dinner.
Saves MoneyOverall, choosing a meal delivery service will save you valuable money. This is done in two ways: you cut down on the amount of food waste you produce each week and you don't spend as much money driving to and from the grocery store. While the latter may seem not as important, you could still save a tank of gas each month because you aren't going back and forth to the grocery store.As for food waste, many people throw away food each week and are thus throwing away money. But with a meal delivery service, each meal is perfectly proportioned so there won't be as much food waste.
Less Grocery ShoppingFor busy families, spending less time at the grocery store means spending more time with each other. With a meal delivery plan, you will spend hours less time each week at the grocery store and more time at home.Plus, many families have a lot going on, and finding the time to get to the grocery store can be challenging. So if you want to spend more time with your family and less time in the aisles of the grocery store, choose a meal delivery service.
New RecipesHave you ever found yourself stuck cooking the same meals over and over again? You cook the same meals not because you love them—though you likely do—but because you know exactly what ingredients you need and there's not much planning involved.If you're looking to add some new recipes to your weekly menu, a meal delivery service may the way to go. Many meal delivery services release new recipes each week, so you won't find yourself constantly eating the same meals.
Healthy MealsUsing a meal delivery service can also be a great way to add healthy meals to your diet. While we all love burgers and pizza, we should make healthy dinners at least a few times a week. Not only do meal delivery services provide healthy meals, but they also taste great.So if you're looking for healthy recipes, a meal delivery service may be the best choice for you and your family.
Quick and Easy RecipesMany families don't have time to cook elaborate meals every night, so they choose to get takeout or cooking the same easy meals. Luckily, many meal kits offer recipes that can be cooked in 30 minutes or less.It's also easy to pick out the easier meals from the more advanced ones because the meal delivery kit's websites often include the time it takes to cook the meal and how advanced the preparation is. So for easy and quick meals for your family, opt for a meal delivery service.
Is a Meal Delivery Service Right for Your Family?
As you can see, there are numerous benefits to using a weekly meal service. But deciding whether a meal kit is right for your family can depend on a few key factors that we will discuss below.
Picky EatersIf you have family members who are picky eaters, a meal delivery kit may not be the best choice. You pay for each meal serving, so it would be a bummer to have to waste one of the meals. While many meal kits come with pre-packaged ingredients that you don't have to add, it may be inconvenient to have to pick out these ingredients for each meal. However, some meal delivery services, such as Hello Fresh (find out more about this service in the section below), offer family-friendly meal plans that have meal options specifically for children. If you do choose a meal delivery service that has a meal your child does not like, you could also make it and eat it for leftovers the next day. So, you most likely won't waste food.One tip for families with picky eaters who want to try a meal delivery service is to choose the meals as a family. That way, you'll have buy-in from each member and the meals won't be a surprise at dinner each night. Everyone will know what to expect, and that will hopefully prevent any issues regarding picky eating.
Families with More Than 4 PeopleFor larger families, it may be harder to find a weekly meal service that offers enough meals with each plan. More often than not, meal kits will only have options to serve 2 or 4 people in one household. If you only have 3 family members, you can choose the 4 person plan and will likely have leftovers, which isn't a bad thing. If you have more than 4 people to feed, your only option is to add extra meals if you can, but it does require extra steps and extra costs. However, Green Chef (more on this service below) does offer meal plans of up to 6 household members, so they may be worth looking into for those who have larger families.
CostWhen feeding larger families, the cost of meal delivery kits does begin to get pricey. While it costs a lot to feed a family without a meal delivery service, it can get expensive. Below is a list of the cost for each serving from some of the more popular meal delivery services.

Hello Fresh: up to $8.99 per meal
Blue Apron: up to $8.99 per meal
Home Chef: up to $6.99 per meal
Green Chef: up to $12.99 per meal

When feeding just two people, the costs are rather affordable. But when you start to feed 4 people or more, the costs can add up quickly.

Meal Sizes
For families with growing teenagers, meal delivery services may not be the best choice. Because they are in such a rapid stage of growth, teens usually eat more food than adults. Most meal delivery services are created with adult nutrition in mind, so they may not be sufficient for growing teenagers, especially if those teenagers are active in sports and extracurricular activities. However, you could still do a meal plan if you have teenagers. You'll probably just have to have plenty of snacks on hand or make more sides to go with your meals by doubling up on potatoes or pasta, for example.
Which Meal Delivery Service is Best for Families?
Not all meal delivery services are created equal when it comes to feeding families. However, the options below may be some of the best meal service delivery kits for your family.
Hello Fresh
Hello Fresh has been around for almost 10 years and has quickly become one of the most popular meal delivery services. This meal delivery service is a great option for families because they offer a Family Friendly Plan that delivers healthy and delicious meals that are perfectly designed for families with children. Additionally, the Family Friendly Plan can feed your family of 4 for 4 nights a week at only $7.49 per serving and meals can take as little as 25 minutes to make.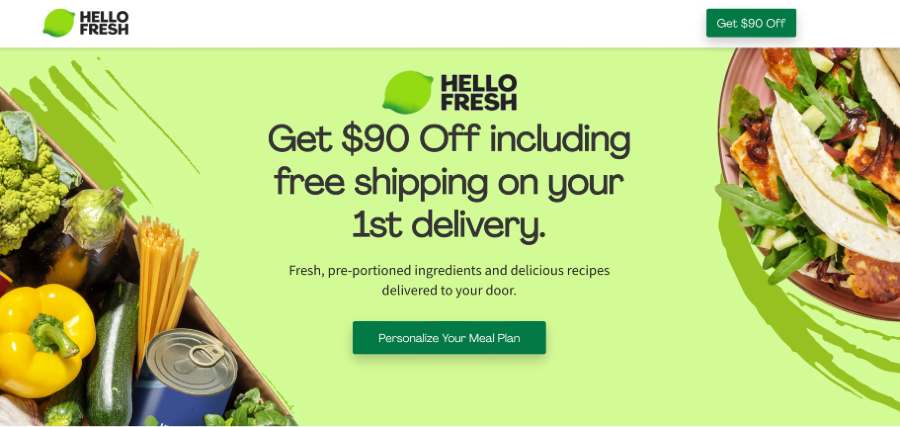 Blue Apron
Blue Apron was one of the first meal kit delivery services around, and because of this, it is one of the most popular within the United States. Starting at $7.49 per serving, Blue Apron offers delicious meals that are easy to prepare that even children will enjoy. If you're looking for a meal delivery service for everyone in your family, Blue Apron should be a top contender.
Home Chef
Home Chef is a great option for families and those with picky eaters because they offer so many ways to customize your meals. When you sign up for Home Chef, you complete a profile for your specific tastes and answer questions about your dietary preferences. For individual meals, you also have the option to customize them by switching out proteins and removing ingredients.
Home Chef offers relatively inexpensive meals at around $6.99 per serving and can take as little as 10 minutes to prepare to 50 minutes of cooking.
Green Chef
While Green Chef may be one of the more expensive meal delivery services at $11.99 to $12.99 per serving, they do make meals specifically for certain diets, such as Keto, Paleo, Vegetarian, Balanced Living, and Vegan. Green Chef is also the first company to become certified for gluten-free meals and offers certified organic meals.
However, this meal plan may not be the most suitable for most families because they don't have family-friendly plans and are on the expensive side.
Final Thoughts
For busy families who are looking for an easy way to cook delicious, healthy meals, a meal kit delivery service may be the best choice for you. There are numerous benefits to meal delivery services, such as saving time, new recipes, and healthy foods, and even picky eaters may find they like the options that meal plans have to offer.