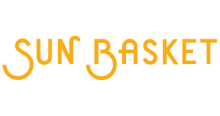 Customer support:
800 number, email, website

The unique feature of this meal delivery service is their pantry options. You can add things to your basket (or box, really) such as coffee, tea, oatmeal, granola, yogurt and juice to name a few. This way you have plenty of grab and go breakfasts added to your cabinets without having to take a trip to the grocery store.
What we liked about it:
Healthy Cooking Made Easy
Organic Produce, Clean Ingredients, and Delicious Recipes Delivered Weekly
Paleo, Lean & Clean, Gluten-Free, Vegan, and More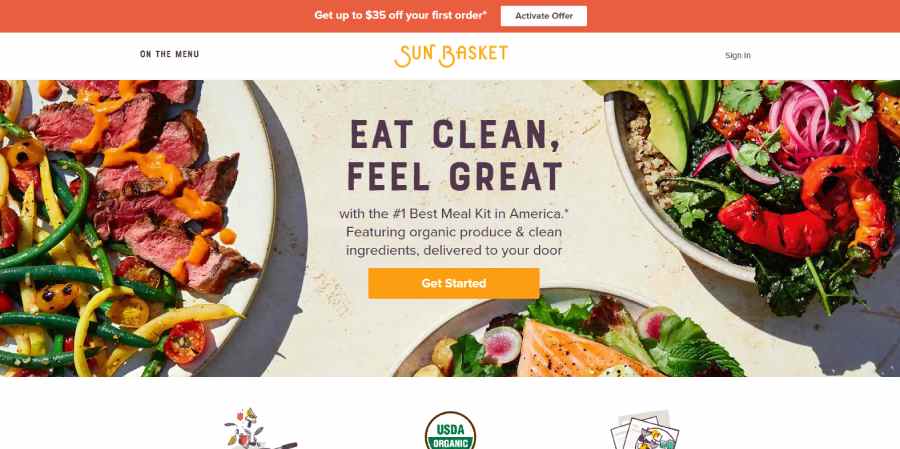 Overview
Sunbasket is a meal delivery service that focuses on organic foods. They delivery fresh foods, not frozen. Most sauces are premade, cutting down on prep time and it offers a considerably larger selection of meals than the competition.
Back to top ↑
Menu Types Available
There are 13 different meal plans in total, and we don't have enough space to cover them all so I will divide them into two categories:
Classic Meal Plans- this meal plan is offered with the 3 meals per week for either a couple or a family of 4. They have meal plans that fit into vegan diets, vegetarian diets, low carb diets, paleo diets, and the Mediterranean diet.
They have one called lean and clean which is popular with fitness enthusiasts. It contains plenty of lean protein and clean ingredients, meaning that there are no additives and preservatives. All of Sun Baskets meat products are clean, hormone and antibiotic free, free range, and wild caught.
They also have gluten free meals for those who are gluten intolerant and a meal plan for those who suffer from diabetes. There is something for everyone, even pescatarians.
The chef's choice menu is a mix of all of these with only the best seasonal produce and proteins that are fresh.
Curious as to what kind of meals you could be getting. How does chicken cacciatore over fresh pappadelle sound? What about Greek shrimp with tomatoes, feta, and orzo? Their meals are very gourmet and full of flavor.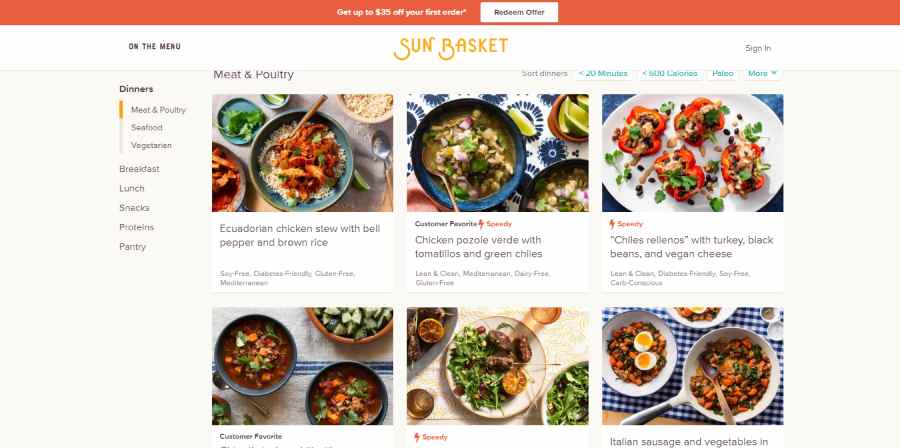 Family Meal Plans- the family meal plan has less options but much bigger portions. You can choose between 2, 3, and 4 meals per week for a family of 4. They have the chef's choice and vegetarian options to choose from.
Unlike the classic meal plan which have 18 weekly meals to choose from the family meal plan only has 6.
All of the recipes are available to the classic meal plan subscribers, but they pay $1 more per serving. This meal plan is for those looking to get the best deal. This meal plan service is easy to use. You choose your desired meal plan and the amount of servings and meals you want per week. You can always mix and match if you want something from different meal plans.
For example, if you are subscribed to the pescatarian meal plan, you will receive options that fit your choice, but you can also choose a meal that is listed under the vegetarian or vegan meal plan if you choose.
Back to top ↑
Cost
Sunbasket is currently offering $35 off your first order.

The price of your meal plan would depend on your chosen plan, servings, and meals per week. The classic menu's price per serving is $11.99 and the family menu's price per serving is $10.99.
You can always change your meal plan to accommodate more people on weeks that you will be having guests and lower it again once they leave so that you don't have to pay for more food than you will be eating.
Back to top ↑
Customer Support
You can choose to contact customer support through either email, live chat on their website, text or call them directly on their 800 number.
Back to top ↑
Conclusion
This service costs a little more than the average meal delivery service but they make up with great tasting and healthy foods. They also give more choices in meals than any other company and help you create meals that you would be proud to serve to guests.
Back to top ↑
Sun Basket Meal Plan Review
PROS
Vibrant, healthy meals with lots of variety
13 different meal plans to choose from that will match just about any diet
Choose meals for 2 or 4 people
Uses only organic produce and hormone and antibiotic free meat and eggs
Meals created by an award-winning chef
Recyclable container that keeps food fresh
Skip any week or cancel at any time
CONS
Not all meals are very kid friendly
Shipping costs extra