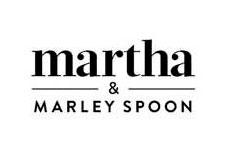 Marley Spoon is a classy meal delivery service that's bolstered by their partnership with renowned home chef, Martha Stewart. Martha Stewart's most loved recipes are delivered right to your door, all you have to do is prepare them. Plan your meals for up to eight weeks in advance and enjoy fresh, pre-portioned ingredients ready for you to make a meal. The menu consists of classic Martha Stewart dishes with ten new menu items added every week for much more variety. You'll love all of the different types of cuisines featured and many you wouldn't expect from Martha Stewart. Marley Spoon works with the finest purveyors of produce and fresh meats to make the experience as delicious as possible. After all good ingredients make great food.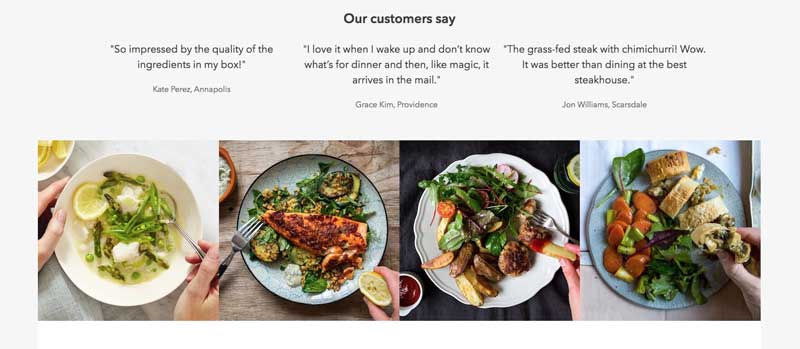 Is Marley Spoon Easy to Use?
Marley Spoon is as easy as pie. Just choose the recipes you love and decide when you want them delivered to you. There are more than 18,000 recipes in Marley Spoon's archives and that means you'll never get bored with what's on the menu. In addition to the easy to use website, Marley Spoon also offers a mobile app to make choosing meals on the go extremely easy. And, you can plan months in advance. Don't worry, it's a very flexible process and you pick how much food you receive each week. We just mention that to let you know the option is there for you to take advantage of.
↑
Is Marley Spoon Affordable?
Marley Spoon's website offers a price comparison between the cost of its ingredients and what you pay at Whole Foods or other supermarkets. Because the portions of produce are ordered and stocked perfectly, you'll spend less money using Marley Spoon than you would most grocery stores. Each portion costs between $8 and $10. That's a super affordable deal considering the quality of ingredients. The pre-portioned food also means you won't waste any food or money.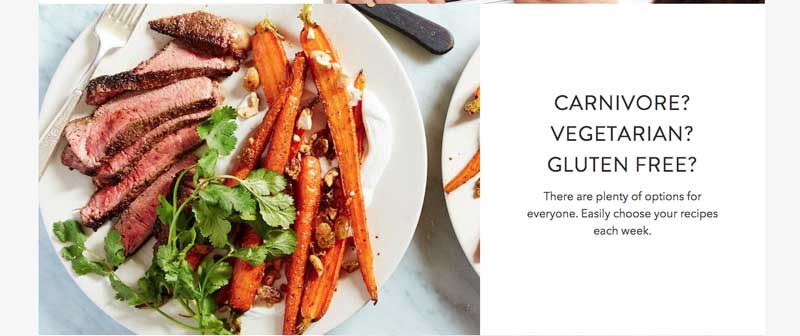 ↑
Is the Food Good?
Each recipe and the ingredients are getting Martha's stamp of approval so rest assured you'll be getting the best ingredients to make the time-tested recipes in your home. We were shocked to see so many Asian inspired dishes. Martha Stewart has been known to stick to more provincial cooking and it's nice to see her and the team step outside of their comfort zone and make some really special meals. The meals aren't just incredibly delicious they also cater to different dietary needs like vegetarian or gluten-free diets. That's great for people looking to watch their weight or just be more conscious of the foods they're eating. The meals will be a hit with your entire family. Martha and Marley Spoon have got it figured out perfectly.
↑
Are the Meals Easy to Prepare?
If you've ever cooked a Martha Stewart recipe before, you know she's all about making the dishes as simply and flavorfully as possible. Each meal comes with an easy to follow recipe card guides you through the entire cooking process. From prep, to cooking and then presentation. It's difficult to mess up these easy recipes. The ingredients do most of the work and the way the meals are packaged for you takes the difficulty out of putting it all together. Most meals will be ready in under thirty minutes which will give you more time to enjoy your time with your family and guests.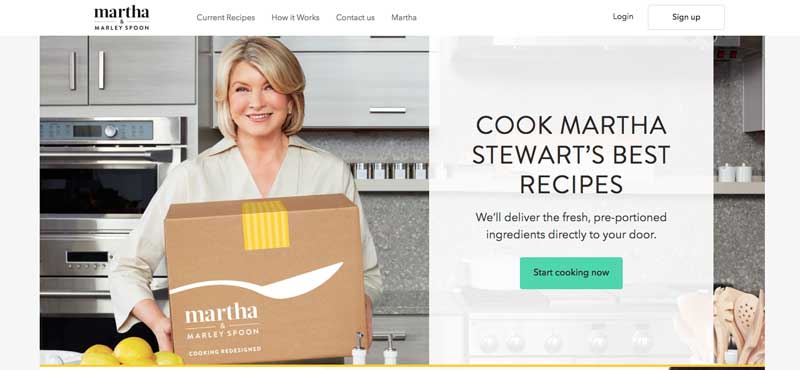 ↑
Should I give Martha & Marley Spoon a Try?
Without a doubt. This affordable, classy meal delivery service will change the way you think about meal planning. Choose the recipes you like or want to try, schedule them and then your Marley Spoon box arrives packed with everything you need to make a delicious, nutritious meal. With excellent ingredients coming at a fraction of the cost, you'll taste the difference in each bite. Martha Stewart has been a trusted cook and lifestyle presence for decades. Her impeccable taste and ability to make effortless meals seem extraordinary are on full display with the Marley Spoon meals. You're going to love this meal delivery kit service.