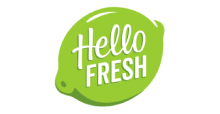 Special deal:
$80 Off + Free shipping on the first box!
Customer support:
Live chat

Hello Fresh is known for its colorful plates and unique recipes but did you know that they offer wine with your box? That is a nice addition to a meal delivery service. You have a dinner for two all in one nice package.
What we liked about it:
World's Largest Meal-Kit company serving millions of customers in 11 Markets
Most 5 Star Reviews and 5 Star Recipes
Up to 18 chef-curated meals to choose from each week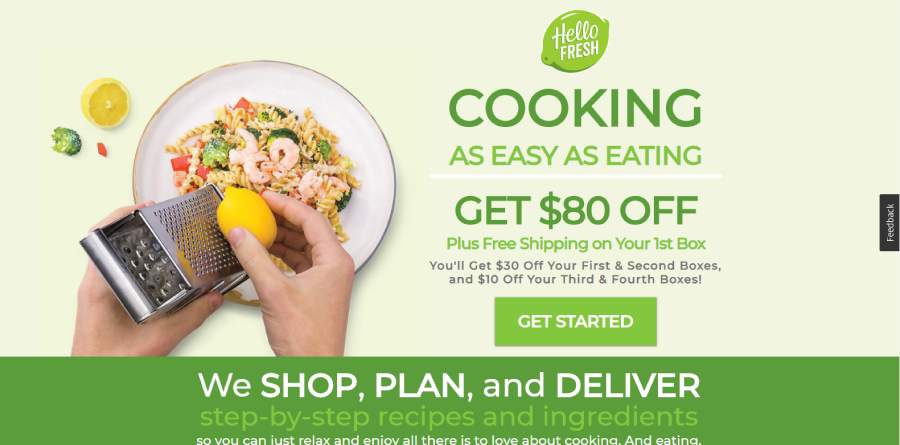 Overview
Hello Fresh delivers tasty ingredients for you to make an even tastier meal. It's a convenient way to feed your family with wholesome food and it can also be a helpful way to stay slim if you use the right diet plan.
The variety of the weekly menu lineup will keep you from getting bored of eating the same thing each week but if you have a favorite, you're sure to see it again.
The recipes are created by Australian Masterchef, Tom Rutledge and he believes in using simple, healthy ingredients. He makes healthy recipes by using plenty of spices and herbs to give flavor, not fat. He also understands the struggle of cooking at home with little time, so his recipes are meant to be cooked in 30 minutes or less.
Back to top ↑
Menu Type Available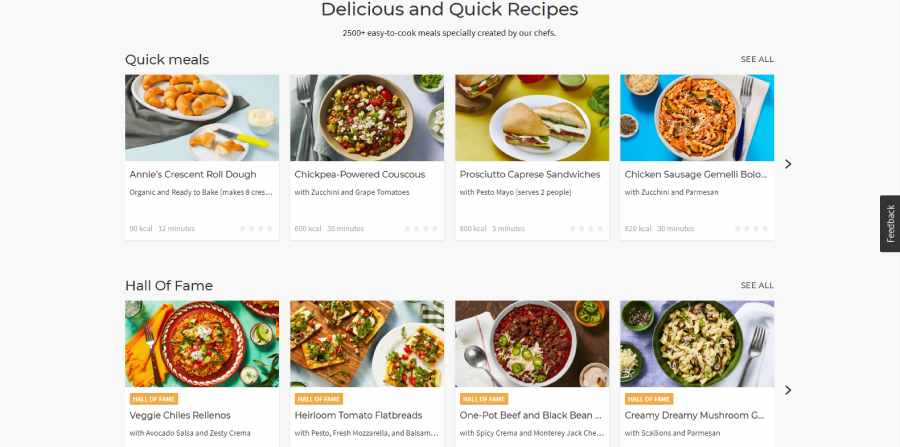 Hello Fresh has four main menu plans. They are the Classic Plan, the Veggie Plan, the Family Plan and the Low Calorie Plan. Within each plan you can choose the number of servings of 2 or 4 and either 2, 3, or 4 meals per week.
The Classic plan is made of the traditional menu of meals made with meat and vegetables as well as some starches. It would include pastas, tacos, and steak and potato type meals.
The Veggie plan is comprised of vegetarian dishes, still full of flavor. A few examples are their zucchini and tomato flatbread and the veggie burrito bowl.
The Family plan includes meals that the whole family will love. They are usually easier to whip up in no time. You can find meals like Italian noodle soup, chicken teriyaki bowls, and parmesan crusted chicken.
The low calorie plan comes with smaller portions with ingredients that are lower in calorie to help you stick to a certain daily calorie intake for weight loss. You can look forward to eating meals like Barramundi and Scallion Sriracha pesto.
Many of the meals can be a part of more than one plan.
Back to top ↑
Delivery
Hello Fresh allows you to decide your own delivery day. If you should ever need to change the delivery day or skip a week you can simply log into your account and change it.
Delivery costs $6.99 per box.
Back to top ↑
Cost
Right now, Hello Fresh is offering a great deal. You get free shipping with your first box and $80 off your first four boxes; $30 off the first two and $10 off the third and fourth.
The classic plan is only available for two people and $10.99 per serving for two meals a week, or $8.99 per serving for 3 or 4 meals a week. You can also get the veggie plan for $8.99 per serving.
For the family plan the price per serving ranges from $7.49 per serving to $8.99 per serving.
Considering all the time and money you'll be saving by not having to buy groceries at the supermarket, this is a steal!
Back to top ↑
Customer Support
Hello Fresh will answer any questions that you have with live chat on their website. If you are a customer, you can download their app and conveniently change your plan or choose your menu from your phone.
Back to top ↑
Conclusion
This is a very flexible and somewhat affordable meal kit delivery service with healthy and exciting menu options. Crafted by a MasterChef and backed by some big celebrities like Jessica Alba, this is obviously not a second rate meal delivery service.
Back to top ↑
Hello Fresh Meal Delivery
PROS
Fresh ingredients
20 recipes to choose from each week
Pre-measured ingredients
Comes delivered in an insulated recyclable box
Easy-to-follow recipe cards
Skip a week or cancel membership anytime without fees
CONS
Shipping at additional charge
2 Serving minimum