HelloFresh makes getting meals delivered to your door a breeze. If you'd like to be making more home-cooked meals, but want to skip the grocery store, you should check out HelloFresh. This meal planning service will help you prepare the most delicious, restaurant-quality food in your very own home. With a rolling menu that features new meals inspired by all kinds of cuisines like Asian, Italian and Classic American, there's something for everyone. In addition to the fun menus, you'll also find some of the most flexible meal plans on this site. A lot of meal delivery kit services have convoluted meal plans (and often, several to choose from).
HelloFresh keeps it simple. There are three plans to choose from; the Veggie Plan, the Classic Plan and the Family Plan. These plans allow you to pick the types of foods that are perfect for you and your family. That doesn't mean that HelloFresh doesn't cater to different diets. Each recipe tells you which ingredients are in each and what would be "nut-free" or "egg-free" options for instance.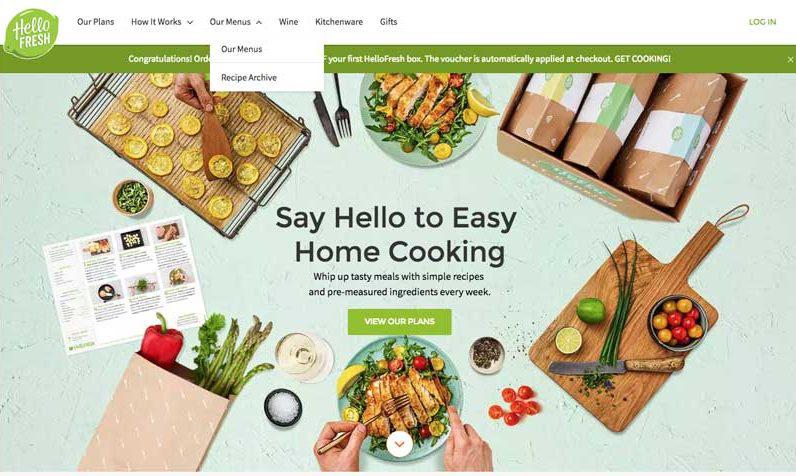 Is HelloFresh Easy to Use?
Yes, in fact, it's one of the easiest meal delivery kits we've tried. The HelloFresh website is easy to use and navigate. You pick your plan, the meals you want to receive, and then you'll be sent your weekly meal box. It's really straight-forward. Further, HelloFresh has an incredible app for your mobile device that allows you to make meal choices on the go. And, you can use the app to find other recipes, cooking videos and tips to make your experience even easier. You can also integrate the nutritional information from the meals to any wellness and fitness apps you use to track calories etc.

↑
Is HelloFresh Affordable?
HelloFresh is one of the, if not the, most affordable meal delivery service we've tried. For first time users, the site often offers an introductory offer that will let you try their plans at a discount (at the time of writing, the site offered $80 off – $20 Off Your First 4 Boxes + Free Shipping Off Your First Box). That's a great deal considering the portion sizes you receive and the quality of the ingredients.
↑
Is the Food Good?
HelloFresh offers meals that are more like staples. You won't find any fancy, frilly recipes on their site. Sometimes, that's best. Especially if you're not a seasoned cook or you might be serving picky eaters. HelloFresh's menu is delicious and will surely please most tastes. That being said, you will see a variety of dishes with culinary diversity that are all delicious. The Family Plan has tons of dishes that are kid-friendly, but will also appeal to adults. You might not be eating heirloom tomatoes or specialty procured produce, but you'll find the ingredients are a step above your local grocery store.
↑
Are the meals easy to prepare?
The meals are super easy to prepare. Even if you don't cook all that often, you'll find HelloFresh's meals will come together in about 20 minutes. Getting prepped to cook and the pre-packed ingredients make each meal a breeze to get to your table. The recipe cards that come with each meal offer detailed instructions that will help keep you on track and are very easy to follow. Many of the recipes are just a few steps. As I mentioned earlier, the HelloFresh app offers tons of resources to help you prepare the meals. The tips and tricks it shares will make you even more efficient as you cook. Overall, the meals at HelloFresh are extremely easy to prepare and won't take you long at all to master.
↑
Should I give Hello Fresh a try?
Absolutely! If you're looking for simple, easy to prepare meals that don't take a ton of cooking experience, HelloFresh is a safe bet. For more adventurous cooks, you may want to consider a different service. HelloFresh specializes in weeknight staples that are quick and easy. No frills, just delicious meals for you and your loved ones. Also, you can't beat the price on this service. Check and see if they're currently running any promotions and try to get yourself a discounted rate for your first time. HelloFresh is a solid meal delivery service worth anyone's time who wants to save a little money and cook from home. Oh! They also have wine delivery on top of the meals. Who can argue with a home-cooked meal and a glass of wine after a long day?